There's nothing quite like fall in San Francisco. The fog (hopefully) clears, the waves start pumping and the sunsets are inevitably spectacular. There's barely Strictly Bluegrass and Fleet Week. And this year, there's a whole host of openings to look forward to: a grand new hotel with a rooftop bar, a brand new art museum, and dining destinations ranging from tasty Malaysian cuisine to a new destination for town center for an aperitif. Here are nine openings that we are particularly excited about this fall.
Net
Opening date : September 30
The latest entry in the category of "hotels where the locals really love to hang out," LINE Hotel opens in the Tenderloin, a short walk from The Warfield, with 236 rooms (from $259) featuring floor-to-ceiling windows and headboards tagged with graffiti. Beyond staycation's aspirations, there are plenty of reasons to drop by to see San Francisco-based multimedia artist Sasinun Kladpetch's large-format mural sculpture that adorns all four walls of the LINE Lobby. Namely, four new dining spaces, starting with Tenderheart, an all-day indoor-outdoor restaurant focused on Northern California cuisine, led by chef Joe Hou (of Le Fantastique and Angler) and also opening September 30. weeks, don't miss the opening of Rise Over Run, LINE's rooftop cocktail bar with panoramic views, canapes from Chef Hou and drinks from San Francisco bar star Danny Louie (Mister Jiu's and The Alembic) and Dark Bar, a new school lobby bar with drinks and snacks. You'll also find the first San Francisco location of Alfred Coffee, an LA staple that will fit right in with the Bay Area coffee scene.
dog patch
Opening date : October 1st
San Francisco's art scene is enjoying a big following thanks to ICASF, or the Institute of Contemporary Art of San Francisco, a brand new museum opening in the Dogpatch. The 11,000-square-foot space describes itself as continually "under construction" or perpetual reinvention, and makes a point of bringing equity to the forefront, both in terms of artists and the works they perform. they stand for and their interactions with the wider community (entry is free, to start). The opening exhibition, titled "This Burning World", is a solo exhibition by Cherokee and Choctaw artist Jeffrey Gibson that examines the importance of our interaction and relationship with the planet.
North Beach
Opening date : Beginning of October
Outer Richmond's beloved restaurant, Cassava, is spreading its wings and reopening its doors in a larger space in the heart of North Beach. Long a favorite for creative California cuisine and equity-centric employment practices, Cassava North Beach will maintain its three-course prix fixe, changing seasonally for dinner (at just $52, that's a no-brainer) , favorites including the Brined Buttermilk Fried Chicken, and the next-level brunch (Japanese breakfast is hands down one of the best breakfasts in town), but look for a new snack section at dinner and a grill category dedicated to brunch. The new space seats 40 inside, plus 40 sidewalk seats outside (dog-friendly!), a dedicated 10-seat bar and accompanying bar menu. Make reservations through OpenTable.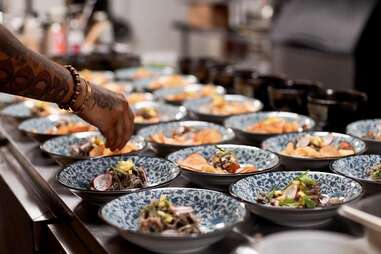 Oakland
Opening date : October 10
After more than a year of hosting their popular pan-African multi-course dinner club OKO, Tribune owner-operators Chef Omri Aflalo and Darrin Ballon hand Chefs Mike Woods and Solomon Johnson the reins of their restaurant to a hybrid consultancy and rebranding residency. they dubbed OKO to Tribune. The menu will shift from classic French style to avant-garde Creole and Pan-African à la carte dishes. Expect Cajun Creole and Gullah Geechee food items like Hoppin John with allium ash and herb oil and Limpin Susan with prawn heads. Indoor and outdoor seating is available, along with a full bar that will showcase spirits and wine labels owned by Black and POC.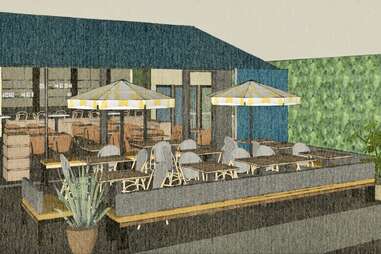 Design District
Opening date : Second week of October
A new venture by the Omakase Restaurant Group (Niku Steakhouse, Dumpling Time, Omakase), Rosemary & Pine is a more casual sister restaurant to the special occasion stunner Niku. Both restaurants also share executive chef Dustin Falcon who, before earning a Michelin star at Niku, was sous chef at Lazy Bear. Rosemary & Pine's will have 94 seats and indoor-outdoor space, as well as a menu featuring fresh breads, slow-braised meats, fresh seafood and many dishes cooked in their wood-fired oven.
Valley of Noah
Opening date : October
Damansara comes to Noe Valley to fill the laksa-shaped hole in our hearts, and we couldn't be happier. It's also the brick-and-mortar realization of chef/owner (and La Cocina entrepreneur) Tracy Goh's wildly popular Malaysian food pop-ups, which she started hosting in 2012. The 48-seat space , with additional outdoor seating, will quickly become a staple for traditional Goh small plates featuring Malaysian street food, including coconut fishcakes grilled in banana leaves and fried chicken topped with salted egg sauce. And laksa. Many, many laksa.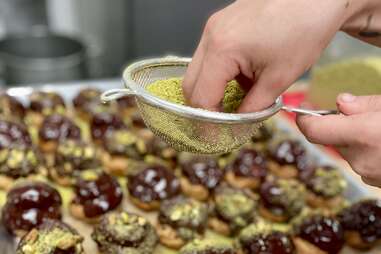 The Hague Valley
Opening date : End of October
When it comes to coffee craftsmanship in this city, nothing beats the expertise of Tal Mor and Jodi Geren. Four Barrel Coffee and The Mill co-owners Mor and Geren are taking over the former 20th Century Cafe space and opening a new destination-worthy cafe and wine bar where food and coffee are treated with the same level of care and of community. Enter Loquat, a 25-seat dream (outdoor seating coming soon) where you'll find Diaspora-Jewish-inspired pastries and Levantine flavors in sweet and savory forms, courtesy of Mor's-inspired Pastry Chef Kristina Costa (formerly of Tartine) childhood in Israel. While the focus will be on morning fare to start – think babka, cookies, cakes and bourekas served hot with eggs, feta and spicy schug – the team has a beer and wine license and plans host events including guest chefs and sabich nights with fresh laffa, a traditional Iraqi bread, in their tandoori oven.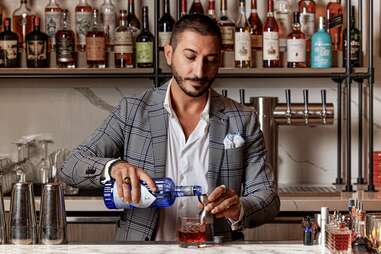 financial district
Opening date : November
It's aperitif time somewhere, and it will always be at the next Bar Sprezzatura, a new project by TableOne Hospitality and mixologist Carlo Splendorini (formerly of the Mina group). From Monday to Friday, imbibe like you're on the Italian Riviera with Splendorini's riffs on classic Italian cocktails, accompanied by savory cicchetti, small plates including focaccia, fritti, shellfish, crudo and premium boxes. The 92-seat space also has a 36-seat outdoor terrace.
Lower Nob Hill
Opening date : To fall
The Liholiho Yacht Club team has been revamping the restaurant's original Sutter Street space for months and plans to reopen its doors this fall. Details on what changes we can expect to the restaurant and menu are scarce, but we're more or less sure to love everything Chef Ravi Kapur and his team have to say about modern Hawaiian cuisine, as long as his Homemade SPAM is involved.
Want more Thrillist? follow us on instagram, TwitterPinterest, YouTube, TikTok and Snapchat.
Lauren Sloss is a San Francisco-based travel, food, and music writer who has stints in Philadelphia, New York, London, Istanbul, and aboard a 32-foot sailboat. Follow her on instagram
and
Twitter
.