Next time you're on a bus, car, or bike, you probably won't see a huge billboard reminding you of the drought in California, and no, you won't get a pop-up ad on your computer. . However, when you sit down to eat in a restaurant, chances are you'll receive a not-so-subtle reminder. But how much can new regulations and signs like these really help the statewide effort to dramatically reduce water usage?
Over the past six weeks, we've visited countless restaurants across the city, talked to the San Francisco Public Utilities Commission, and gotten input from two environmental science professors. Here's what we found.
Emergency measures
Even if you live under a rock, you've probably heard of the state's massive drought, which is well into its fourth year. This week, the US Drought Monitor said nearly 94% of the state is experiencing severe, extreme, or exceptional drought.
In April, Governor Jerry Brown decided it was time to step up. He issued an executive order calling for a general water reduction of 25% statewide. In March, the State Water Resource Control Board released several new emergency water conservation regulations. Among the urban conservation measures: "restaurants and other catering establishments can only serve water to customers on request".
Photos by Jon Schlosberg/Hoodline
San Francisco may be the perfect place for this rule to have an impact. According to Trulia, San Francisco has, by far, the most restaurants per capita in the United States. No other major metropolitan area comes close to San Francisco, which has 39.3 per 10,000 households. Doing the math, that means there are over 1,300 restaurants in the city. That's a lot of meals served every day.
It's worth mentioning that farmers are the biggest users of water in the state, and it's not even close. According to the Public Policy Institute, irrigation accounts for about 80% of all water taken from the earth, but that doesn't mean urban conservation efforts can't make a difference.
In San Francisco, many businesses and restaurants are already in compliance with a business preservation ordinance issued in 2009. By 2017, all commercial buildings in the city, including restaurants, must have faucets, toilets, sinks, and more. efficient urinals and showers.
The San Francisco Public Utilities Commission has offered incentives to restaurants and other businesses to replace aging and inefficient equipment. A restaurant, for example, can receive up to $545 for an energy-efficient dishwasher.
California drought severity map, from the state drought monitor page.
As a result of all of these measures, San Francisco is far ahead of other areas of California in the continued push for water conservation. According to guidelines set by the State Water Board, San Francisco falls into "Level 2" of water conservation. This means that, unlike a 25% reduction, the city is aiming for an 8% reduction on all fronts. Only 21 other municipalities out of the 411 in the state are as successful in terms of water reduction.
Calla Schmidt, a professor of environmental science at the University of San Francisco, told me:
If the goal is urban water conservation, the biggest gains come from reducing landscape watering and changing fixtures (low-flow toilets and showers). In San Francisco, we have already implemented these measures. Compared to most urban areas, we have very little landscape irrigation and have already imposed low-flow fixtures. This means that if we want to reduce water usage in SF, we need to start targeting smaller things like water usage in restaurants.
Granted, restaurants account for only a small percentage of water use compared to farms, landscaping, and other uses. San Francisco Public Utilities Commission water conservation officer Julie Ortiz says that among commercial water users, restaurants registered under individual accounts "represent between 3 and 5 percent of the total consumption".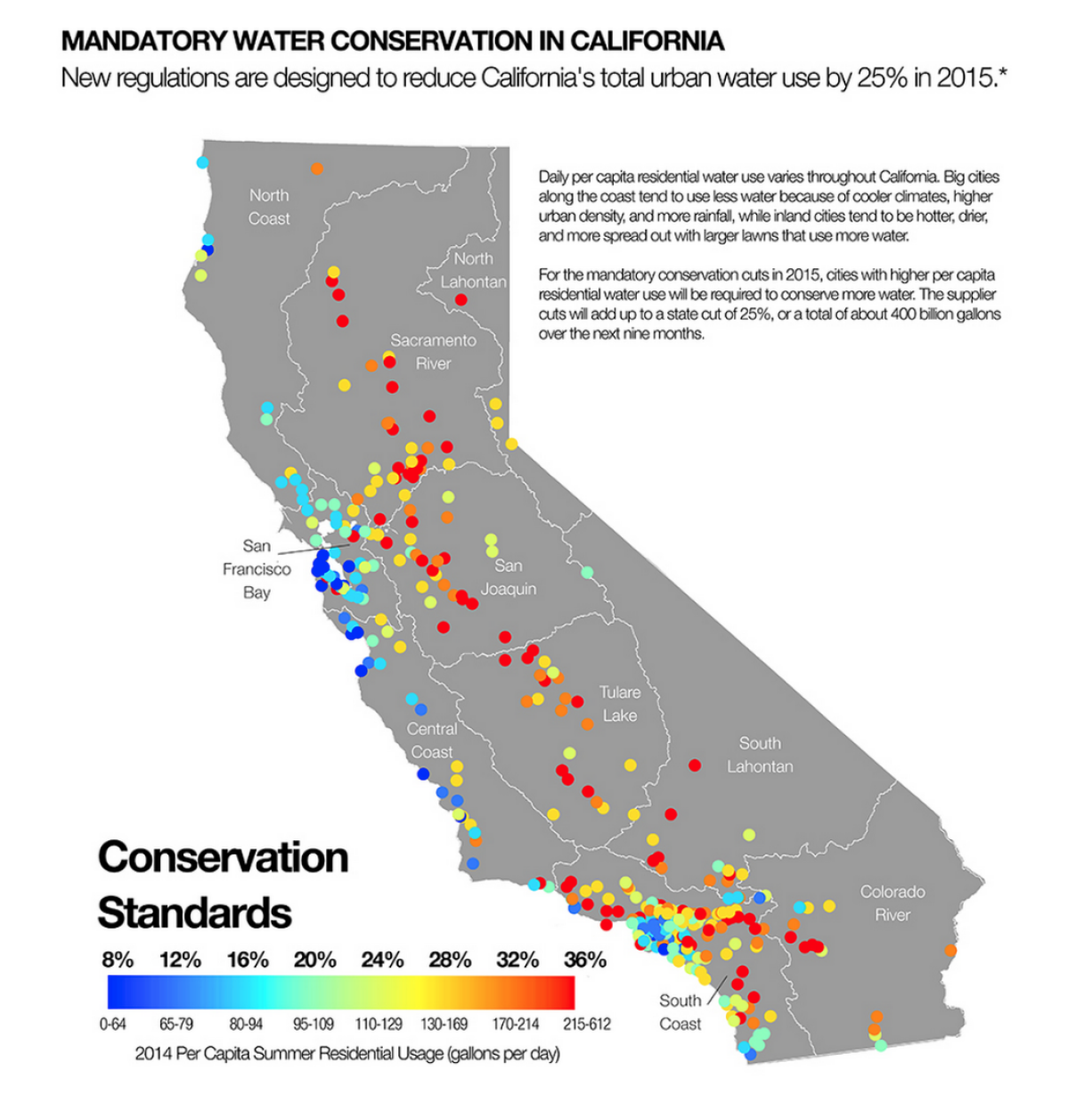 Don't hurt so bad. Via the California State Water Conservancy site.
But it's partly psychological. Like Tahoe's lack of snow for skiers, the lack of clean water at the tables provides patrons with an opportunity to remind themselves of the drought and other decisions they can make to lessen their own impact.
Every little bit counts
I have been to a number of restaurants and have spoken with owners, servers, hostesses and dishwashers about the water conservation measures they take in their restaurants. At NOPA on Divisadero, the hostess and server I spoke with said they felt they only served half the amount of water as before. At nearby El Mercado, waiters said people were drinking less and everyone understood the new rule. In Fog City near the Embarcadero, the bartender told me there was "so much waste" and that "every little bit counts."
It was the mantra I kept hearing in various places around town, from the Lower Haight to the Financial District to Hayes Valley. But not everyone was so quick to embrace the new rule.
In Palmyra in the Lower Haight, a manager told me he always puts the customer first. For this reason, he will continue to offer people water when they sit down. He doesn't want to do anything to compromise customer service. Without pointing out each individual place that was not compliant, what I have seen in my visits is that many ethnic cuisine restaurants have been slow to adapt to the new rule.
When I asked the manager, Chris, of One Sushi in the Hayes Valley, why his servers were always serving water automatically, he replied, "It's a customer service issue, it's just the polite thing to do." If the city told him to stop, he said he would. Until then, however, One Sushi servers will continue to serve water automatically.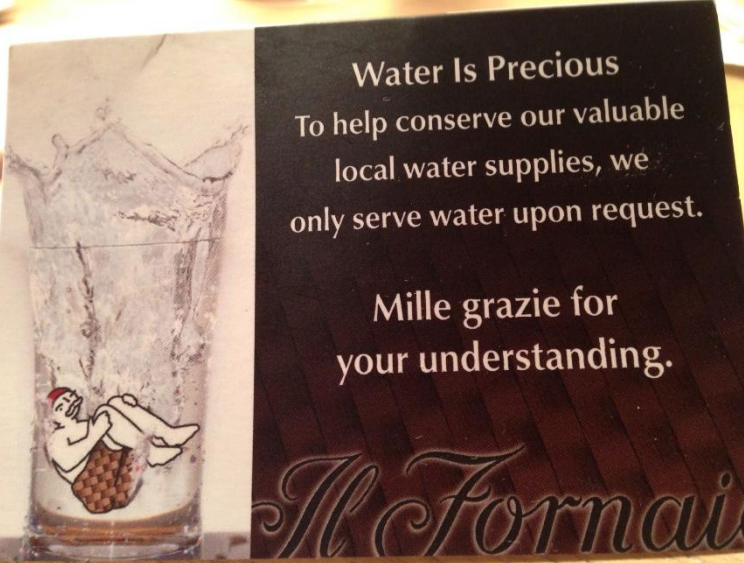 Ortiz with SFPUC told me "We have the power, if we wanted to impose sanctions, but the first line of effort is definitely education." I've found that in many cases restaurants don't comply simply because they don't know the rule. Anyone who wants to report water waste can call the City's 311 line. To date, no one has called this line to complain about a restaurant serving water automatically, but Ortiz says "we're looking into all reports."

At Flippers, not far from One Sushi, a waiter said: "We refill it if someone asks, but often people leave their glasses half full, and there's nothing we can do about it."
That's where each individual comes in, Ortiz said. "The amount of water they leave behind, half a glass, might not be that great individually, but it can certainly add up collectively if you think thousands of people across the city on make."
The National Restaurant Association says the average American buys a snack or meal from a restaurant about 5 times a week. The 2010 census revealed that there were 805,235 people living in San Francisco. Since many restaurants, including Flippers, have complained to me that people seem to be leaving glasses half full, let's assume that for 5 meals a week, the entire population of the city no longer leaves 6 ounces of water in a 12 oz glass.
5 x 805,235= 4,026,175 gourmet outings per week
4,026,175 x 6 oz = 24,157,050 ounces of water saved per week
128 ounces in a gallon…means 188,726 gallons of water could be saved each week.
This water conservation rate could represent more than 9 million gallons of water saved in San Francisco per year. In the scheme of things, it might not be a gigantic sum, but if everyone, customers and restaurants, do their part to not leave water on the table, it's easy savings.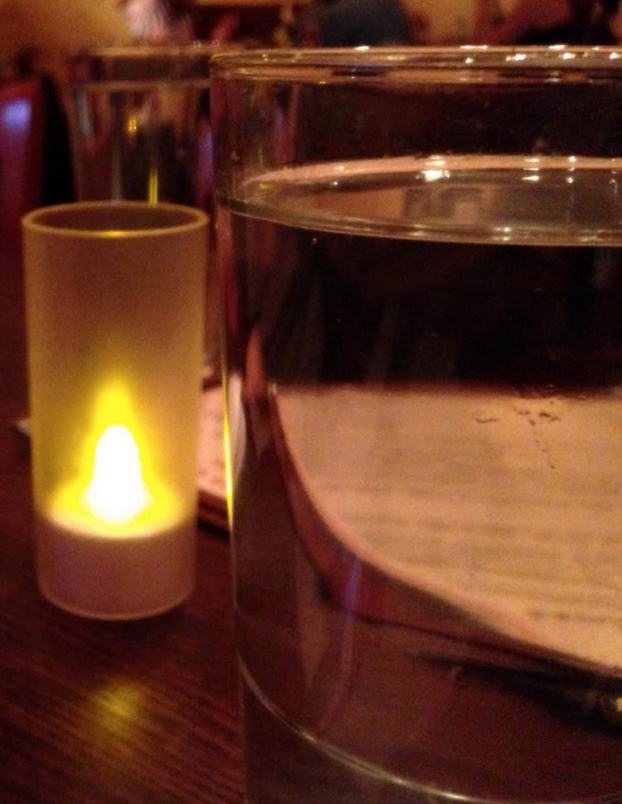 At dinner at Le Safran near Divisadero earlier this month, the waiter kept filling me with water without my asking. Yes, the food is spicy, but I couldn't go past ¾ of the glass without it being refilled, even though we had already paid the check. It's obviously not on the same level as dumping water for hours a day on a lawn, but it's still a waste of water.
Although it may seem inconsequential, the absence of excess water on the table alerts customers to the ongoing drought. Essentially, it's a free billboard that everyone is exposed to. Michael Hanemann, professor of environmental science at UC Berkeley, told me, "As a symbolic gesture, it's important.
Ortiz continued, "This is a great opportunity to reach so many people on a daily basis about something they regularly interact with and make them think twice about their water consumption."
do your part
As Professor Schmidt said, it's the little things now. Rio Vista, Discovery Bay and 91 other water municipalities are not so lucky – these areas face a mandatory 36% water reduction. 8% here in San Francisco is achievable. SFPUC can't go to all 1,300 restaurants and force compliance, but if you only ask for what you need the next time you go out and remind your server not to pour you water you don't don't need, then you will help us conserve and set an important example for the rest of the state.